Introduction to Telephony and PBX (Phrack) - Chapter 1
Credits:

Cavalier[TNO]
Decided to post this old but golden write-up from Phracks 49th issues. On the basics of telephony and PBX. I'm learning a bit if phreaking and telco exploitation. So this is a good way to understand some of the basics. I will post more topics like this.
Source:
http://www.phrack.org/issues/49/5.html#article
The Central Office
Telephones alone do nothing special.  Their connection to the rest of world makes them one of mankind's greatest achievements.
In the early days of telephone communications, users had to establish their own connections to other telephones. They literally had to string their own telephone lines.
Although the customer inconvenience of building their own connections limited the availability of phone service, an even greater problem soon arose. As the telephone became more popular, more people wanted to be connected. At the time, each phone had to be directly wired to each other. In a very short time there was a disorganized maze of wires running from the homes and businesses.
A simple mathematical formula demonstrates the growth in the number of connections required in a directly wired network:
I = N(N-1)/2
(I = number of interconnections; N = number of subscribers)
I = 100(100-1)/2
If just 100 subscribers attempted to connect to each other, 4950 separate wire connections would be needed! Obviously, a better method was needed.
Switching
A Central Office (CO) switch is a device that interconnects user circuits in a local area, such as a town. The CO is a building where all subscriber phone lines are brought together and provided with a means of interconnection. If someone wants to call a neighbor, the call is routed through the CO and switched to the neighbor.
What if someone wanted to call a friend in the next town? If their friend was connected to a different CO, there was no way to communicate.
The solution was to interconnect COs.  Then, CO-A routed calls to CO-B to complete the connection.
Today every CO in the world is connected to every other CO in a vast communication highway known as the Public Switched Network (PSN).  The PSN goes by a variety of different names:
Dial-up network

Switched network

Exchange network

The CO provides all users (subscribers) with a connection to each other. A critical note, however, is that no CO has the resources to switch all their users simultaneously. It would be too expensive and it is unnecessary to attempt to do so because for the vast majority of the time, only a small percentage of subscribers are on the phone at the same time.
If, on a rare occasion, all the circuits are busy, the next call will be blocked. A call is blocked if there are no circuits available to switch it because all the circuits are in use.
The term `probability of blocking` is a statistical logarithm which determines the chance that a call cannot be switched. For modern day commercial COs, the probability of blocking is very low.
History of COs
Operating switching
In the first COs, a subscriber who wanted to place a call cranked a magneto-generator to request service from the local phone company.  An operator at the CO monitored subscriber connections by observing lamps on a switchboard console. When a subscriber's lamp lit, indicating the request for service, the operator would answer: "Number please...".
The operator connected one call to another by plugging one end of a cord into the jack of the caller and the other end of the cord into the jack of the called party, establishing a manual, physical connection.
The switchboard had to have a jack for every incoming and outgoing line that needed service. The number of lines an operator could monitor was limited by her arm's reach. Billing was accomplished by the operators writing up a ticket for each call designating its starting and ending times.
When telephone subscribers were few in number, this method worked fine. As the popularity of the phone increased, more phones placed more calls and it became increasingly unmanageable and expensive to manually switch and bill each call.
Strowger Step-by-Step Switch
A mechanical switch was invented in the 1890's by a Kansas City mortician named Almon B. Strowger. He became very suspicious because callers looking for a mortician were continually referred to his competition instead to him. When he learned that the local operator was the wife of his rival, his suspicions were confirmed. He set about to invent a switching system that would not be dependent upon human intervention.
His creation, called the Strowger or Step-by-Step switch, was the first automated electromechanical switching system. It placed switching control in the hands of the subscriber instead of the operator by adding a dialing mechanism to the phone.
The Strowger switch completed a call by progressing digit by digit through two axes of a switching matrix in the CO. A call was stepped vertically to one of ten levels and rotated horizontally to one of ten terminals.
It was called step-by-step because calls progress one step at a time as the customer dialed each digit of the number. When the final digit was dialed, the switch seized an available circuit and connected the call.
The result of the step-by step switch was to eliminate the need for manual operator connection and grant privacy and call control to the subscriber.
The step-by-step switch was a wonderful invention for its day. Today it is obsolete. Compared to modern day switches, it is slow, noisy and too expensive to maintain. It is also both bulky and inefficient.
The Crossbar Switch
The crossbar switch was invented and developed in the late 1920s. One of its main technological advanced was the introduction of a hard wired memory to store dialed digits until the dialing was complete.
Unlike the step-by-step method, calls are not processed under the direct control of incoming dial pulses. In the step-by-step method, each phone call controlled its own pathway through the switching matrix at the speed the digits were dialed by the user. The crossbar switch introduced a better method.
Devices called registers stored the digits in memory as they were dialed by the callers. Not until all the digits were dialed would the call begin to be switched. Once all the digits were received and stored in the register, the register handed the digits to a processor to be examined and used to route the call.
When a pathway had been established and the call was connected, the register and processor would release and become available to handle another call. Collectively, this process was called `common control`.
Common control resulted in faster call completion and increased capacity of the switch. With the old step-by-step, the time it would take a user to physically dial the digits would occupy valuable switch time because dialing the digits was the most time consuming part of switching a call. This 8 to 12 seconds of dialing time prevented other users from accessing the switching matrix and generally slowed things down.
The genius of the crossbar common control was to store the dialed digits as they came in and then after the user finished dialing, send the digits off for processing. The act of dialing no longer kept other calls waiting for switch resources.
Common control created the separation of the control functions (setting up and directing the call) from the switching functions (physically creating the connections).
Crossbar Switching Matrix
Calls were connected by sharing a dedicated wire path through the switching matrix. Crossbar switches used the intersection of two points
to make a connection. They selected from a horizontal and vertical matrix of wires, one row connected to one column. The system still stepped the call through the network, but only after all the digits were dialed. This method created a more efficient allocation of switch resources.
There are four important components of a crossbar switch.
The marker is the brain of a crossbar switch. It identifies a line requesting service and allocates a register.

The register provides dial tone and receives and stores the dialed digits.

The matrix is a set of horizontal and vertical bars. The point at which the crosspoints meet establishes the connection.

A trunk interface unit, also called a sender, processes calls from a PBX.

Although crossbar is faster and less bulky than step-by-step, it is still electromechanical and requires a lot of maintenance. It requires huge amounts of space, generates a lot of heat, and makes a great deal of noise.
Electronic Switching System  (ESS)
The advent of electronic switching (also called stored program switching) was made possible by the transistor. Introduced in 1965, the Electronic Switching System (ESS) greatly sped up switch processing capacity and speed and has done nothing less than revolutionize the industry.
Modern ESS switches perform five main functions to establish and maintain service in a public network.
Establish a connection between two or more points

Provide maintenance and testing services

Record and sort customer billing charges

Offer customer features, such as call waiting

Allow access to operators for special services

An ESS uses computer-based logic to control the same two primary operations we introduced with the crossbar -- common control and the switching matrix.
(In an ESS, the terms stored program control, common control, and electronic switching are all synonymous.)
ESS Common Control
The function of the common control is similar to its function in the crossbar. The difference is that common control is accomplished electronically instead of electromechanically. Like the crossbar, one group of control devices controls the functions of all lines. However, instead of the hard wired logic of the crossbar, the control device consists of a computer with memory, storage, and programming capability
In the ESS, the computer governs the common control. It monitors all the lines and trunks coming into the CO, searching for changes in the electrical state of the circuit, such as a phone going off-hook. When a subscriber goes off- hook and dials a number, the common control equipment detects the request for service and responds by returning the dial tone. It then receives, stores, and interprets the dialed digits.
Again, similar to the workings of the crossbar, once the digits have been processed, the computer establishes a path through the switching matrix to complete the call. After the connection for the call has been established, the common control equipment releases and becomes available to complete other calls.
ESS Switching Matrix
Recall that in the crossbar, calls were connected by sharing a dedicated wire path through the matrix, establishing a connection between an input and an output. The matrix in an ESS is logically similar to the crossbar grid except the pathway is electronic instead of electromechanical. Called a TDM bus, it is solid state circuitry and is printed into small computer controlled circuit boards. The computer controls the connections and path status map to determine which path should be established to connect the calling and called parties.
Remember
Crossbar switching matrix = maze of physical wire cross connections

ESS switching matrix = electronic multiplexed TDM (time division multiplexing) bus

ESS Advancements
The unprecedented advancement of the ESS was the speed and processing power advantage it had over the crossbar because it switched calls digitally instead of electromechanically. The processing capacity that would have required a city block of crossbar technology could be accomplished by one floor of ESS equipment. Much less effort was required to maintain the ESS because it was smaller and had fewer moving parts.
Telephone companies would have moved to the new technology for these advantages alone. But, there was much more to be offered. There was the power of the computer.
There are major advantages to a computer stored program. It allows the system to perform functions earlier switches were incapable of. For example, the switch can collect statistical information to determine its effectiveness. It can perform self-diagnostics of circuit and system irregularities and report malfunctions. If trouble occurs, technicians can address it via a keyboard and terminal. The same terminal, often called a system managers terminal, allows personnel to perform system changes and to load new software, eliminating the need for manually rewiring connections.
The computer uses two types of memory:
Read Only Memory (ROM) is used to store basic operating instructions and cannot be altered by the end user. The contents of this memory can only be changed by the manufacturer.

Random Access Memory (RAM) stores configuration and database information. The contents of its memory can be changed by a system administrator.

Other important functions of the computer include
Performing telephone billing functions

Generating traffic analysis reports

Generating all tones and announcements regarding the status of circuits and calls

Computer control operates under the direction of software called its generic program. Periodically updating or adding to the generic program allows the ESS to be much more flexible and manageable than previous switch generations because it is the software, not the hardware, that normally has to be upgraded.
Electronic switching heralded the introduction of new customer features and services. Credit card calls, last number redial, station transfer, conference calling, and automatic number identification (ANI) are just  a few examples of unprecedented customer offerings.
The ESS is an almost fail-safe machine. Its design objective is one hour's outage in 20 years. In today's competitive environment for higher quality communication equipment, ESS machines provide a level of service and reliability unachievable in the past.
Private Branch Exchange (PBX)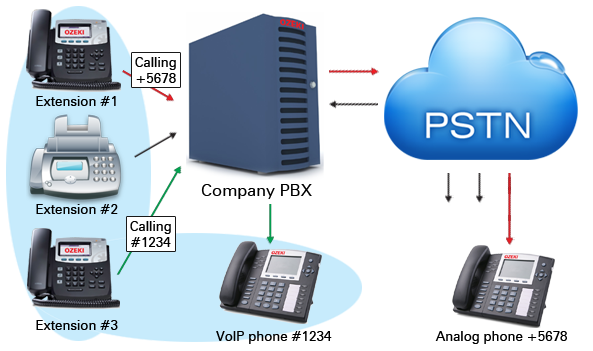 The two primary goals of every PBX are to
facilitate communication in a business

be cost effective

Organizations that have more than a few phones usually have an internal switching mechanism that connects the internal phones to each other and to the outside world.
A PBX is like a miniature Central Office switching system designed for a private institution. A PBX performs many of the same functions as a CO does. In fact, some larger institutions use genuine COs as their private PBX.
Although a PBX and a CO are closely related, there are differences between them
A PBX is intended for private operation within a company. A CO is intended for public service.

A PBX usually has a console station that greets outside callers and connects them to internal extensions.

Most PBXs do not maintain the high level of service protection that must be maintained in a CO. Assurance features such as processor redundancy (in the event of processor failure) and battery backup power, which are standard in a CO, may not be a part of a PBX.

COs require a seven digit local telephone number, while PBXs can be more flexible and create dialing plans to best serve their users (3, 4 5, or 6 digit extensions).

A PBX can restrict individual stations or groups of stations from certain features and services, such as access to outside lines. A CO usually has no interest in restricting because these features and services are billed to the customer. COs normally provide unlimited access to every member on the network.

A PBX is composed of three major elements.
Common equipment (a processor and a switching matrix)

CO trunks

Station lines

Common Equipment
The operation of a PBX parallels the operation of a Central Office ESS. Its common control is
A computer operated Central Processing Unit (CPU) running software that intelligently determines what must be done and how best to do it.

A digital multiplexed switching matrix printed on circuit boards that establishes an interconnection between the calling and called parties.

The CPU stores operating instructions and a database of information from which it can make decisions. It constantly monitors all lines for supervisory and control signals. A switching matrix sets up the connections between stations or between stations and outgoing trunks.
Housed in equipment cabinets, PBX common equipment is often compact enough to occupy just a closet or small room.  Given the extremely high rental rates many companies have, a major benefit of a PBX is its small size.
CO Trunks and Station Lines
A trunk is a communication pathway between switches. A trunk may provide a pathway between a PBX and the CO or between two PBXs and two COs. A trunk may be privately owned or be a leased set of lines that run through the Public Switched Network.
A line is a communication pathway between a switch and terminal equipment, such as between a PBX and an internal telephone or between a CO and a home telephone.
The function of the PBX is to interconnect or switch outgoing trunks with internal lines.
Two Varieties of Lines
Station lines are either analog or digital, depending on the station equipment it is connecting. If the phone on one desk is digital, it should be connected to a digital line. If the phone on the desk is analog, it should be connected to an analog line.
Varieties of Trunks
There exists a wide variety of trunks that can be connected to a PBX for off-premises communication. Each variety has different functions and capabilities. It is important to be able to distinguish them.
Tie Trunks
Organizations supporting a network of geographically dispersed PBXs often use tie trunks to interconnect them. A tie trunk is a permanent circuit between two PBXs in a private network. Tie trunks are usually leased from the common carrier; however, a private microwave arrangement can be established. Usually, leased tie trunks are not charged on a per call basis but rather on the length of the trunk. If a tie trunk is used more than one or two hours a day, distance sensitive pricing is more economical.
A T1 trunk is a digital CO leased trunk that is capable of being multiplexed into 24 voice or data channels at a total rate of 1.544 Mbps. T1 trunks are used as PBX-to-PBX tie trunks, PBX-to-CO trunks as well as PBX trunks to bypass the local CO and connect directly to a long distance carrier. It is a standard for digital transmission in North America and Japan.
T1 uses two pairs of normal, twisted wire--the same as would be found in a subscriber's residence.  Pulse Code Modulation is the preferred method of analog to digital conversion.
A T2 trunk is capable of 96 multiplexed channels at a total rate of 6.312 Mbps.

A T3 trunk is capable of 672 multiplexed channels at a total rate of 44.736 Mbps.

A T4 trunk is capable of 4,032 multiplexed channels at a total of 274.176 Mbps.

Direct Inward Dialing (DID) Trunks
Incoming calls to a PBX often first flow through an attendant position. DID trunks allow users to receive calls directly from the outside without intervention from the attendant. DID offers three main advantages.
It allows direct access to stations from outside the PBX.

It allows users to receive calls even when the attendant switchboard is closed.

It takes a portion of the load off the attendants.

Trunk Pools
Trunks do not terminate at a user's telephone station. Instead trunks are bundled into groups of similarly configured trunks called trunk pools. When a user wants to access a trunk, he can dial a trunk access code --for example, he can dial 9 to obtain a trunk in the pool. Trunk pools make system administration less complicated because it is easier to administer a small number of groups than a large number of individual trunks.
Ports
Ports are the physical and electrical interface between the PBX and a trunk or station line.
PBX Telephones
Telephone stations in a PBX are not directly connected to the CO but to the PBX instead. When a station goes off-hook, the PBX recognizes it and sends to the station its own dial tone. The PBX requires some access digit, usually "9" to obtain an idle CO trunk from a pool to connect the station with the public network. This connection between the telephone and the PBX allows stations to take advantage of a myriad of PBX features.
The attendant console is a special PBX telephone designed to serve several functions. Traditionally, most PBXs have used attendants as the central answering point for incoming calls. Calls placed to the PBX first connected to the attendant, who answered the company name. The attendant then established a connection to the desired party. The attendant also provided assistance to PBX users, including directory assistance and reports of problems.
In recent years a number of cost-saving improvements have been made to the attendant console. A feature commonly called automated attendant can establish connections without a human interface, substantially decreasing PBX operating costs.
Blocking versus Non-blocking
Blocking is a critical aspect of the functioning of a PBX. A non-blocking switch is one that provides as many input/output interface ports as there are lines in the network. In other words, the switching matrix provides enough paths for all line and trunk ports to be connected simultaneously.
PBX systems are usually blocking. It requires an exponential increase in resources and expense to ensure non-blocking. Based on call traffic studies and the nature of calls, it is generally acceptable to engineer a low level of blocking in exchange for a major savings of common equipment resources.
Grades of service are quantitative measurements of blocking. They are written in the form: P.xx
where xx is a two digit number that indicates how many calls out of a hundred will be blocked. The smaller the number, the better the grade of service.
P.01 means one call out of a hundred will be blocked. It is a better grade of service than P.05 that block five calls out of a hundred. Naturally the P.05 service costs less than the better grade of service provided by P.01.
Even if a PBX's switching matrix is non-blocking, an internal caller may still not be able to reach an outside trunk if all the trunks are busy. CO trunks cost money, and very few PBXs dedicate one trunk to every internal line. Instead, traffic studies are performed to determine the percentage of time a station will be connected to an outside trunk during peak hours.
If, for example, it is determined that the average station uses a trunk only 20% of the time during peak hours, then the switch may be configured to have a 5:1 line-to-trunk ratio, meaning for every five lines (or extensions) there is one trunk. Most PBXs are configured on this principle as a major cost saving method.
PBX Features
COs and PBXs share many of the same attributes and functionality. However, COs are built to perform different tasks than a PBX, resulting in feature differences between them. The following is an overview of common PBX features not found in a CO.
Automatic Route Selection (ARS)
A primary concern of any telecommunications manager is to keep costs down. One of these costs is long distance service. ARS is a feature that controls long distance costs.
Most PBXs have more than just public CO trunks connected to them. They may have a combination of tie trunks to other PBXs (T1/E1 trunks and many others). Each type of trunk has a separate billing scheme, relatively more or less expensive for a given number of variables.
It is extremely difficult to attempt to educate company employees on which trunks to select for which calls at what time of day. It defeats the productivity raising, user-transparency goal of any PBX if employees must pour over tariffing charts every time they want to use the phone.
Instead, ARS programs the PBX central processor to select the least expensive trunk on a call by call basis. When a user places a call, the computer determines the most cost effective route, dials the digits and completes the call.
Feature Access
PBXs support a wide variety of user features. For example, call forward, hold, and call pickup are all user features. There are two methods of activating a feature. A code, such as "*62" can be assigned to the call forward feature. To activate call forward the user presses "*62" and continues dialing.
Dial codes are not the preferred method of feature access. The problem is that users tend to forget the codes and either waste time looking them up or do not take advantage of time saving features, thereby defeating the purpose of buying them.
Dedicated button feature access is a better solution. Programmable feature buttons, located on most PBX telephones, are pressed to activate the desired feature. If a user wants to activate call forward, he presses a button labeled "call forward" and continues dialing.
The only drawback of telephones with programmable feature buttons is that they are more expensive than standard phones.
Voice Mail
For a voice conversation to occur, there is one prerequisite so obvious it is usually overlooked. The called party must be available to answer the call. In today's busy world, people are often not accessible which can create a major problem resulting in messages not being received and business not being conducted.
Statistics confirm the need for an alternate method.
75% of call attempts fail to make contact with the desired party.

50% of business calls involve one-way information--one party wishing to deliver information to another party without any response necessary.

50% of incoming calls are less important than the activity they interrupt.

Voice mail (also known as store and forward technology) is a valuable feature that is designed around today's busy, mobile office. It is like a centralized answering machine for all telephone stations in a PBX. When a telephone is busy or unattended, the systems routes the caller to a voice announcement that explains that the called party is unavailable and invites the caller to leave a message. The message is stored until the station user enters a security dial access code and retrieves the message.
Automated Attendant
Automated attendant is a feature sometimes included with voice mail. It allows outside callers to bypass a human attendant by routing their own calls through the PBX. Callers are greeted with a recorded announcement that prompts them to dial the extension number of the desired position, or stay on the line to be connected to an attendant.
Reducing cost is the primary goal of automated attendant. The decreased attendant work load more d) an pays for the cost of the software and equipment.
When automated attendant was first introduced, it met with substantial resistance from the general public. People did not want to talk to a machine. But, as its cost effectiveness drove many companies to employ it, the public has slowly adjusted to the new technology.
Restriction
Nearly every PBX enforces some combination of inside and outside calling restrictions on certain phones. Depending upon the sophistication of the PBX, a system administrator can have nearly unlimited flexibility in assigning restrictions. For example, a tire manufacturing plant could restrict all lobby phones at corporate headquarters to internal and local calls only. The phones at the storage warehouse could be restricted for only internal calling. But, all executive phones could be left unrestricted.
Nearly every PBX enforces some combination of inside and outside calling restrictions on certain phones. Depending upon the sophistication of Long distance toll charges can be a crippling expense. Toll fraud is a major corporate problem. Restriction combats unauthorized use of company telephone resources and is a prime function of any PBX.
Tandems
As stated earlier, it is necessary to have a switching mechanism to interconnect calls. If a number of phones all wish to be able to talk to each other, an enormous amount of cabling would be wasted tying each of them together. Thus, the switch was born.
The same principle applies for interconnecting PBXs. Large firms that have PBXs scattered all over the country want each PBX to have the ability to access every other one. But the expense of directly connecting each could drive a company out of business. The solution is to create a centrally located tandem switching station to interconnect the phones from one PBX with the phones from any other. This solution creates a Private Switched Network.
Directing digits are often used to inform the tandem switch where to route the call. Each PBX is assigned a unique number. Let's say a PBX in Paris is numbered "4." To call the Paris PBX from a PBX in Chicago, a user would dial "4- XXXX."
Uniform Dialing Plan
A network of PBXs can be configured poorly so that calling an extension at another PBX could involve dialing a long, confusing series of numbers and create a lot of user frustration. A Uniform Dialing Plan enables a caller to dial another internal extension at any PBX on the network with a minimum of digits, perhaps four or five. The system determines where to route the call, translates the digits and chooses the best facility, all without the knowledge of the user. As far as the user knows, the call could have been placed to a station at the next desk.
Call Accounting System (CAS) and Station Message Detail Recording (SMDR)
CAS works in conjunction with SMDR to identify and monitor telephone usage in the system. SMDR records call information such as the calling number, the time of the call, and its duration. The raw data is usually listed chronologically and can be printed on reports.
SMDR by itself is not particularly useful because the sheer volume and lack of sorting capability of the reports make them difficult to work with. A Call Accounting Systems is a database program that addresses these shortcomings by producing clear, concise management reports detailing phone usage.
The primary function of CAS reports is to help control and discourage unnecessary or unauthorized use and to bill back calling charges to users. Many law firms use a call accounting system to bill individual clients for every call they make on behalf of each client.
Attendant Features
A number of features are available to improve the efficiency of attendant consoles.
Here are a few of them.
Direct Station Selection (DSS) allows attendants to call any station telephone by pressing a button labeled with its extension.

Automatic Timed Reminder alerts the attendant that a station has not picked up its call. The attendant may choose to reconnect to the call and attempt to reroute it.

Centralized Attendant Service groups all network attendants into the same physical location to avoid redundancies of service and locations.

Power Failure Schemes
If a city or a town experiences a commercial power failure, telephones connected directly to the CO will not be affected because the CO gets power from its own internal battery source. A PBX, however, is susceptible to general power failures because it usually gets its power from the municipal electric company.
There are several different ways a PBX can be configured to overcome a power failure.
A PBX can be directly connected to a DC battery which serves as its source of power. The battery is continually recharged by an AC line to the electric company. In the event of a power failure, the PBX will continue functioning until the battery runs out.

A PBX can have an Uninterruptable Power Supply (UPS) to protect against temporary surges or losses of power.

A PBX can use a Power Failure Transfer (PFT) which, in the event of a power failure, immediately connects preassigned analog phones to CO trunks, thereby using power from the CO instead of from the PBX.

Outgoing Trunk Queuing
In the event all outgoing trunks are busy, this feature allows a user to dial a Trunk Queuing code and hang up. As soon as a trunk becomes free, the system reserves it for the user, rings the station and connects the outside call automatically.
System Management
PBXs can be so large and complex that without a carefully designed method of system management chaos can result. The best, most advanced systems mimic CO management features--computer access terminals which clearly and logically program and control most system features. The system manager has a wide variety of responsibilities which may include, but is not limited to
Programming telephone moves, additions, and changes on the system

Performing traffic analysis to maximize system configuration resources and optimize network performance

Responding to system-generated alarms

Programming telephone, system, attendant, and network features.

ISDN
ISDN is not a product. Rather, it is a series of standards created by the international body, ITU (previously known as CCITT), to support the implementation of digital transmission of voice, data, and image through standard interfaces. Its goal is to combine all communications services offered over separate networks into a single, standard network. Any subscriber could gain access to this vast network by simply plugging into the wall. (At this time not all PBXs are compatible with the ISDN standard.)
Alternatives to a PBX
There are two main alternatives to purchasing a PBX. They are purchasing a Key system or renting Centrex service from the local telephone company.
Key System
Key systems are designed for very small customers, who typically use under 15 lines. There is no switching mechanism as in a PBX. Instead every line terminates on every phone. Hence, everyone with a phone can pick up every incoming call.
Key systems are characterized by a fat cable at the back of each phone. The cables are fat because each phone is directly connected to each incoming line and each line has to be wired separately to each phone.
Fat cables have become a drawback to Key systems as building wire conduits have begun to fill with wire. It has become increasingly difficult to add and move stations because technicians must physically rewire the bulky cables instead of simply programming a change in the software.
Key telephones are equipped with line assignment buttons that light on incoming calls and flash on held calls. These buttons enable a user to access each line associated with each button. Unlike a PBX, there is no need to interface with an attendant console to obtain an outside line.
Differences between Key and PBX Systems
Key systems have no switching matrix. In a Key system, incoming calls terminate directly on a station user's phone. In a PBX, incoming calls usually first go to the attendant who switches the call to the appropriate station.
PBX accesses CO trunk pools by dialing an access code such as "9." Key systems CO trunks are not pooled. They are accessed directly.
Key systems make use of a limited number of features, many of them common to the PBX. These include
Last number redial

Speed dialing

Message waiting lamp

Paging

Toll restriction

Today's PBXs can simulate Key system operation. For example, telephones can have a line directly terminating on a button for direct access.
Centrex
The other alternative to purchasing a PBX is leasing a Centrex service.
Centrex is a group of PBX-like service offerings furnished by the local telephone company. It offers many of the same features and functions associated with a PBX, but without the expense of owning and maintaining equipment and supporting in-house administrative personnel.
Because network control remains the responsibility of the CO, companies that choose Centrex service over purchasing and maintaining a private PBX can ignore the sophisticated world of high tech telecommunications and leave it up to the telephone company representatives.
To provide Centrex service, a pair of wires is extended from the CO to each user's phone. Centrex provides an "extension" at each station complete with its own telephone number. No switching equipment is located at the customer premises. Instead, Centrex equipment is physically located at the CO.
There are a number of reasons a company would choose a Centrex system over owning their own PBX. Currently Centrex has six million customers in the United States market.
Advantages of a Centrex System over a PBX:
Nearly uninterruptable service due to large redundancies in the CO

Easily upgraded to advanced features.

No floor space requirement for equipment.

No capital investment

24-hour maintenance coverage by CO technicians

Inherent Direct Inward Dialing (DID). All lines terminate at extensions, instead of first flowing through a switchboard.

Call accounting and user billing as inherent part of the service.

Reduced administrative payroll.

Disadvantages of a Centrex System:
Cost. Centrex is tariffed by the local telephone company and can be very expensive. Companies are charged for each line connected to the Centrex, as well for the particular service plan chosen. Additionally, Centrex service may be subject to monthly increases.

Feature availability. Centrex feature options are generally not state of the art, lagging behind PBX technology. Not all COs are of the same generation and level of sophistication--a company associated with an older CO may be subject to inferior service and limited or outdated feature options.

Control of the network is the responsibility of the CO. While this release from responsibility is often cited as a positive feature of Centrex, there are drawback to relinquishing control. CO bureaucracy can be such that a station move, addition or change can sometimes take days to achieve. Furthermore, each request is charged a fee. Also, some companies are more particular about certain features of their network (security for example) and require direct control for themselves.

Properties of Analog and Digital Signals
A man in Canada picks up a telephone and dials a number. Within seconds, he begins talking to his business partner in Madrid. How can this be?
Telephony is a constantly evolving technology with scientific rules and standards. You will learn to make sense of what would otherwise seem impossible.
Voice travels at 250 meters per second and has a range limited to the strength of the speaker's lungs. In contrast, electricity travels at speeds approaching the speed of light (310,000 Km per second) and can be recharged to travel lengths spanning the globe. Obviously, electricity is a more effective method of transmission.
To capitalize on the transmission properties of electricity, voice is first converted into electrical impulses and then transmitted. These electrical impulses represent the varying characteristics that distinguish all of our voices. The impulses are transmitted at high speeds and then decoded at the receiving end into a recognizable duplication of the original voice.
For a hundred years, scientists have been challenged by how best to represent voice by electrical impulses. An enormous amount of effort has been devoted to solving this puzzle. The two forms of electrical signals used to represent voice are analog and digital.
Both analog and digital signals are composed of waveforms. However, their waveforms have very distinctive properties which distinguish them. To understand the science of telephony, it is necessary to understand how analog and digital signals function, and what the differences between them are.
If you do not possess a fundamental understanding of basic waveforms, you will not understand many of the more advanced concepts of telecommunications.
Analog Signal Properties
Air is the medium that carries sound. When we speak to one another, our vocal chords create a disturbance of the air. This disturbance causes air molecules to become expanded and compress thus creating waves. This type of wave is called analog, because it creates a waveform similar to the sound it represents.
Analog waves are found in nature. They are continually flowing and have a limitless number of values. The sine wave is a good example of an analog signal.
Three properties of analog signals are particularly important in transmission:
amplitude

frequency

phase

Amplitude
Amplitude refers to the maximum height of an analog signal. Amplitude is measured in decibels when the signal is measured in the form of audible sound. Amplitude is measured in volts when the signal is in the form of electrical energy.
Amplitude of an Analog Wave
Volts represent the instantaneous amount of power an analog signal contains.
Amplitude, wave height, and loudness of an analog signal represent the same property of the signal. Decibels and volts are simply two different units of measurement which are used to quantify this property.
Frequency
Frequency is the number of sound waves or cycles that occur in a given length of time. A cycle is represented by a 360 degree sine wave. Frequency is measured in cycles per second, commonly called hertz (Hz).
Frequency corresponds to the pitch (highness or lowness) of a sound. The higher the frequency, the higher the pitch.  The high pitch tone of a flute will have a higher frequency than the low pitch tone of a bass.
Phase refers to the relative position of a wave at a point in time. It is useful to compare the phase of two waves that have the same frequency by determining whether the waves have the same shape or position at the same time. Waves that are in-step are said to be in phase, and waves that are not synchronized are called out-of-phase.
Modulation
The reason these three properties are significant is that each can be changed (modulated) to facilitate transmission.
The term modulation means imposing information on an electrical signal.
The process of modulation begins with a wave of constant amplitude, frequency, and phase called carrier wave. Information signals representing voice, data, or video modulate a property (amplitude, frequency, or phase) of the carrier wave to create a representation of itself on the wave.
Amplitude Modulation is a method of adding information to an analog signal by varying its amplitude while keeping its frequency constant. AM radio is achieved by amplitude modulation.
Frequency Modulation adds information to an analog signal by varying its frequency while keeping its amplitude constant. FM radio is achieved by frequency modulation.
Phase Modulation adds information to an analog signal by varying its phase.
The modulated wave carrying the information is then transmitted to a distant station where it is decoded and the information is extracted from the signal.
Properties of Digital Signals
Unlike analog signals, digital signals do not occur in nature. Digital signals are an invention of mankind. They were created as a method of coding information. An early example of digital signals is the Morse Code.
Digital signals have discrete, non-continuous values. Digital signals have only two states:
| | | |
| --- | --- | --- |
| Type of Signal | State 1 | State 2 |
| Light switch | On | Off |
| Voltage | Voltage Level 1 (-2 volts) | Voltage Level 2 (+2 volts) |
| Morse | Short beat | Long beat |
Computers and humans cannot communicate directly with each other. We do not understand what tiny bits and voltage changes mean. Computers do not understand the letters of the alphabet or words.
For computers and humans to communicate with each other, a variety of binary (digital) languages, called character codes, have been created. Each character of a character code represents a unique letter of the alphabet: a digit, punctuation mark, or printing character.
The most popular character code is call ASCII (America Standard Code for Information Interchange). It uses a seven bit coding scheme-- each character consists of a unique combination of seven 1s and 0s. For example, the capital letter T is represented by the ASCII 1010100; the number 3 by the ACSII 0110011. The maximum number of different characters which can be coded in ASCII is 128).
| | |
| --- | --- |
| English | ASCII |
| T | 1010100 |
| 3 | 0110011 |
Another character code is called Extended ASCII. Extended ASCII builds upon the existing ASCII character code. Extended ASCII codes characters into eight bits providing 256 character representations). The extra 127 characters represent foreign language letters and other useful symbols.
Signal Loss - Attenuation
Analog and digital signals are transmitted to provide communication over long distances. Unfortunately, the strength of any transmitted signal weakens over distance. This phenomenon is called attenuation. Both analog and digital signals are subject to attenuation, but the attenuation is overcome in very different ways.
Analog Attenuation
Every kilometer or so, an analog signal must be amplified to overcome natural attenuation. Devices called amplifiers boost all the signals they receive, strengthening the signals to their original power. The problem is that over distance, noise is created and it is boosted along with the desired signal.
The result of using amplifiers is that both the noise (unwanted electrical energy) and the signal carrying the information are amplified. Because the noise is amplified every kilometer, it can build up enough energy to make a conversation incomprehensible. If the noise becomes too great, communication may become impossible.
Two different types of noise affect signal quality.
White noise is the result of unwanted electrical signals over lines. When it becomes loud enough, it sounds like the roar of the ocean at a distance.

Impulse noise is caused by intermittent disturbances such as telephone company switch activity or lightning. It sounds like pops and crack over the line.

As analog signals pass through successive amplifiers, the noise is amplified along with the signal and therefore causes the signal to degenerate.
Digital Attenuation
Although digital signals are also affected by attenuation, they are capable of a much more effective method to overcome signal loss. A device called a regenerative repeater determines whether the incoming digital signal is a 1 or a 0. The regenerative repeater then recreates the signal and transmits it at a higher signal strength. This method is more effective than repeating an analog signal because digital signals can only be one of two possible states. Remember that an analog signal is comprised of an infinite number of states.)
The advantage of a digital regenerator is that noise is not reproduced. At each regenerative repeater, all noise is filtered out-- a major advantage over analog amplification.
Advantages of Digital over Analog Signals
Digital regenerative repeaters are superior to analog amplifiers.

A buildup of noise causes a distortion of the waveform. If the distortion is large enough, a signal will not arrive in the same form as it was transmitted. The result is errors in transmission.

In digital transmission, noise is filtered out leaving a clean, clear signal. A comparison of average error rates shows

Analog: 1 error every 100,000 signals

Digital: 1 error every 10,000,000 signals


The explosion of modern digital electronic equipment on the market has greatly reduced its price, making digital communications increasingly more cost effective. The price of computer chips, the brains of electronic equipment, has dropped dramatically in recent years further reducing the price of digital equipment.

This trend will almost certainly continue adding more pressure to use digital methods.


An ever increasing bulk of communication is between digital equipment (computer-to-computer)

For most of telephony history, long distance communication meant voice telephone conversations. Because voice is analog in nature, it was logical to use analog facilities for transmission. Now the picture is changing. More and more communication is between computers, digital faxes, and other digital transmission devices.

Naturally, it is preferable to send digital data over digital transmission equipment when both sending and receiving devices are digital since there is no need to convert the digital signals to analog to prepare them for analog transmission.

Historically, telephone networks were intended to carry analog voice traffic. Therefore, equipment was designed to create, transmit, and process analog signals. As technology in computers (microprocessors) and digital transmission has advanced, nearly all equipment installed in new facilities are digital.